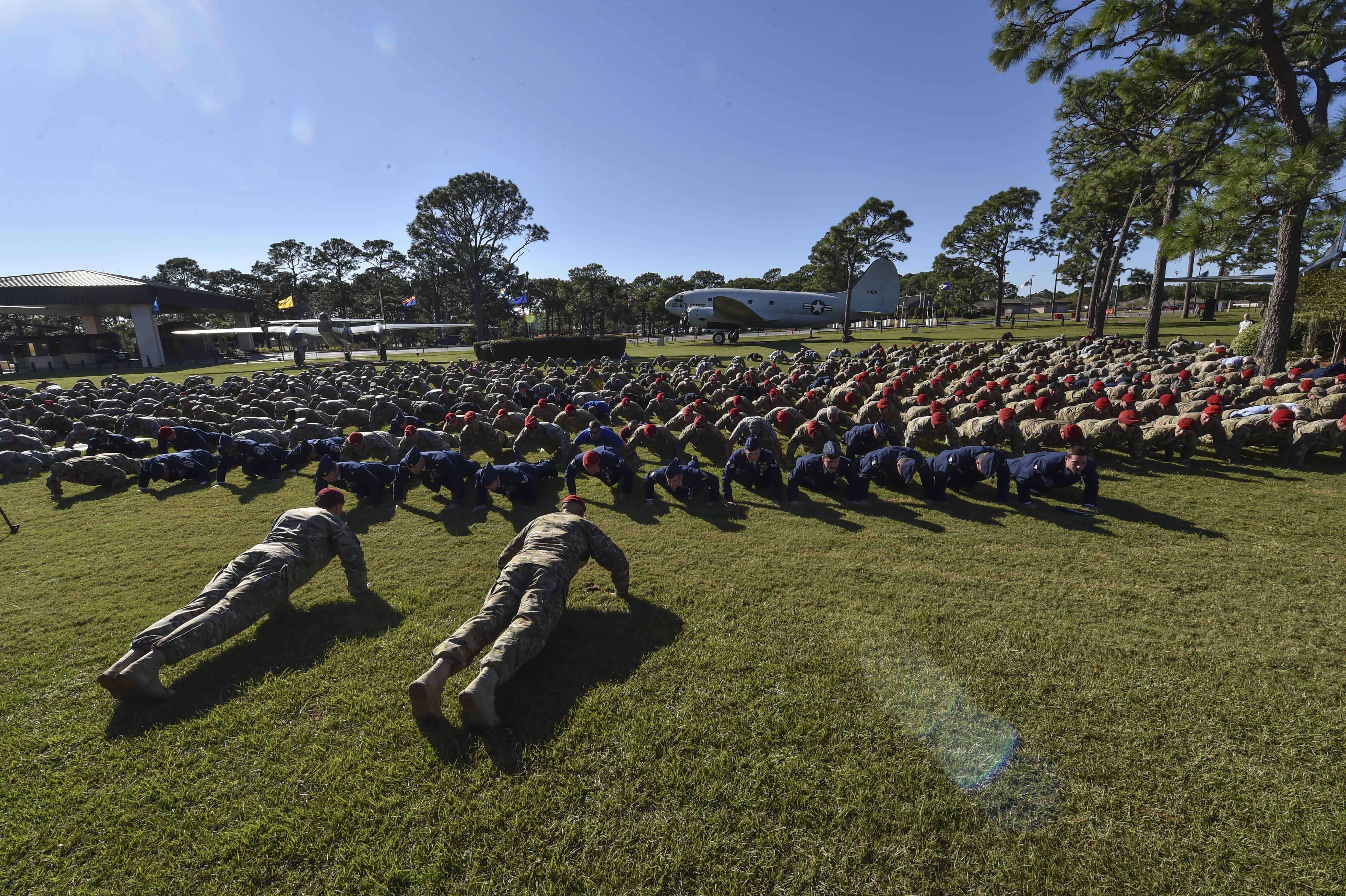 By Senior Airman Ryan Conroy , 24th Special Operations Wing Public Affairs / Published October 17, 2017
HURLBURT FIELD, Fla. —
The team was trapped, outnumbered and bombarded by grenades and machine gun fire from elevated positions. Bullets ricocheted around them.
Ordnance from circling, friendly aircraft exploded meters from their position, shaking the ground, as smoke from an exploded cache smothered the village.
Their mission was originally to kill or capture high value Taliban leaders that fateful night Nov. 2, 2016, in Kunduz Province, Afghanistan, but as the enemy closed in around them, they quickly realized their mission had changed: survive.
SECAF commends Airmen for valor
The 24th Secretary of the Air Force, Heather Wilson, awarded ten valorous medals, including the Air Force Cross, to AFSOC Air Commandos in a ceremony, Oct. 17, here.
"This mission was a perfect example of the power of our Special Tactics Airmen when teamed with American airpower and the nation's elite ground forces," said Wilson. "It reminds the world of what makes us who we are, and it reminds our enemies that there is no place to hide."
Staff Sgt. Richard Hunter, a Special Tactics combat controller with the 23rd Special Tactics Squadron, was awarded the Air Force's highest medal, the Air Force Cross, for gallantry against an armed enemy of the U.S. in combat.
Special Tactics Airmen are the Air Force's ground special operations force, specializing in everything from precision strike to personnel recovery on the battlefield and during humanitarian crises.
Additionally, five members of Spooky 43, the AC-130U gunship aircrew that supported the ground special operations team during the same operation were awarded Distinguished Flying Crosses and four received Air Medals with Valor.
The AC-130U "Spooky" Gunship's primary missions are close air support, air interdiction and armed reconnaissance. Close air support missions include supporting troops in contact and providing convoy escort. The gunship is outfitted with 40mm, 105mm cannons and a 25mm Gatling gun for precise and powerful strikes on the battlefield.
"This mission proved to be the ultimate test of our Air Commandos in air-to-ground integration on the battlefield," said Lt. Gen. Brad Webb, commander of AFSOC. "Hunter and Spooky 43's precision strike capabilities were pushed to the limits under extreme fire to eliminate our enemies and defend our joint partners."
The actions of Spooky 43 in the air and Hunter on the ground were credited with eliminating the enemy and saving the lives of the U.S. Army Special Force team and 43 Afghan soldiers involved in the deadly ambush.
"What was truly extraordinary when I read this story was the amazing precision and professionalism of the team," said Wilson. "When we need swift, precise violence, we call them. There is no better friend and no worse enemy than the United States special operations forces."
Chaos on the ground, hate raining from above
Hunter was embedded with a U.S. Army Special Forces team and their Afghan partners when they were ambushed by heavy machine gun fire from an elevated position as they entered a village, Nov. 2, 2016, near Kunduz, Afghanistan.
"We came across a large, metal gate that had been closed prior to our arrival; I want you to imagine something 12 feet tall, about a quarter inch thick steel, a pretty massive piece of metal in front of us," said Hunter. "We found ourselves in a three-way ambush, 270 degrees all around us."
Finding themselves trapped in the village, and in a dire situation, Hunter and his team withstood an enemy ambush of grenades and machine gun fire, resulting in four friendly force injuries.
Hunter charged forward under enemy fire, leaving cover to drag a wounded teammate back with one hand, while using his free hand to call in suppressive fire through close air support from the Spooky 43 crew overhead.
"At this point, [the team] is dragging [casualties] down the alleyway while still returning fire, and we're using all of our weapons on the aircraft to destroy fighting positions and buildings … all within about 12 meters of Staff Sgt. Hunter," said Maj. Alexander Hill, aircraft commander of Spooky 43. "We told Hunter to put his head down, and we fired closer than I think anyone's ever fired an air-burst round."
As the Spooky 43 crew received the calls from Hunter on the ground for the firepower necessary to deter the enemy, they were required to exceed cooling requirements on the 105-mm Howitzer cannon, risking potential detonation inside the aircraft. With their expert skill and coordination, the crew was able to support the ground forces with the 40-mm cannon and at times forced to manually fire rounds called on by Hunter to defeat the enemy.
According to Hill, the crew actively fired every weapon available to them for 107 consecutive minutes during the battle.
"To see the teamwork in particular and how good and professional everyone was, when they absolutely had to be – I couldn't be more proud to be a part of that," said Hill.
With the smoke from the battle becoming too thick for the team to maneuver through the village, Hunter took direction from the aircraft overhead as he continued to call in enemy positions. Hunter expended all AC-130U point-detonate 105-mm rounds, with only eight airburst rounds remaining. With the enemy element closing on the ground forces, the aircrew was able to stabilize the aircraft and fire an airburst round, typically used in open fields, at an unprecedented 12 meters from friendly forces, annihilating the insurgents.
Hunter and the Spooky 43 crew worked together to call in fire from AH-64 Apache helicopters, preparing medical helicopters to evacuate casualties and activating the Quick Reaction Force needed to evacuate the friendly forces from the village.
"There was so much chaos on the ground, and everybody above us had our backs completely," said Hunter. "It was a beautiful, beautiful thing, because as scared as we all were, and as bad as the situation was – at no point did I fear for my life and neither did my brothers because overhead we have these guys in the gunship raining all kinds of hate and taking care of us completely."
The combined actions of Hunter and the Spooky 43 aircrew proved decisive on the battlefield and demonstrated the enormous impact of AFSOC's precision strike core mission.  Precision strike provides ground forces with specialized capabilities to find, engage and assess targets. This synergy is credited for saving thousands of lives over the last 16 years of war.
"I am extremely proud of what our Airmen accomplished when they were tested on the battlefield," said Webb. "They did what I know every Airman in this command would do when facing a relentless enemy. They overcame, adapted and pushed the boundaries of possible."